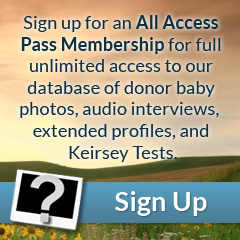 Eyes: Brown
Hair: Black
Height: 5'10"
Weight (lbs): 174
Blood: A Rh+
CMV: +
Ethnicity: East Indian
Jewish Ancestry: No
Education/Occupation: B.S., M.S. Computer Science / Student Intern
Live Birth / Pregnancy Confirmed: No
Extended Testing: Yes
Genetically tested for: View
Balvir stands 5'10" tall with an average build, always well dressed, and with a fresh shave. He has wavy, jet black hair that shines with big brown eyes and a medium skin tone.
Being an engineer major, Balvir is extremely intellectual. He is well-spoken and very articulate when he converses with us. Balvir has one of the most calm and mild mannered dispositions and his own unique charisma. One of his favorite hobbies is cooking which he is learning to master numerous dishes in experimenting with a variety of cuisines. If you are looking for a donor who is intelligent and analytical yet kind and gentle, Balvir may be the one for you!
Genetic Testing
Over the years, we have expanded our genetic testing of donors as genetic knowledge and technology have advanced. As a result, not all donors have been tested for the same conditions or with the same methods. All donors have undergone genetic testing for Cystic Fibrosis, Spinal Muscular Atrophy and Karyotyping.  However, many donors have had more extensive testing performed.
This donor has been evaluated for carrier status of the listed conditions. A negative result reduces, but does not eliminate, the likelihood of the donor being a carrier. If you are a known carrier of a genetic condition please contact us, and we will provide a copy of the donor's test reports to your physician and/or genetic counselor.
Since this donor is a carrier for 1 or more conditions, we require that you fill out the Informed Consent document found HERE
This consent form needs to be completed and sent to us, prior to shipment.