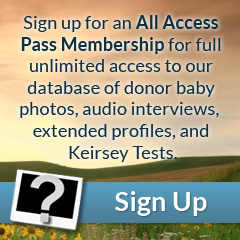 Eyes: Blue/Green
Hair: Dark Brown
Height: 6'00"
Weight (lbs): 170
Blood: O Rh-
CMV: +
Ethnicity: Caucasian, German, Irish
Jewish Ancestry: No
Education/Occupation: B.S. Civil Engineering / Student
Live Birth / Pregnancy Confirmed: Yes
Extended Testing: Yes
Genetically tested for: View
Barton has a very toned build, with well-defined muscles. He is naturally athletic and stays in shape through swimming, Kung Fu, and many body weight exercises, although he played a variety of sports when he was younger. Barton has thick brown hair, and gorgeous blue/green eyes that pop against his fair skin. He keeps his face clean shaven and his hair short. Barton is a very attractive young man whose looks only serve to augment his already stellar personality.
Barton is one of our sweetest and most genuine donors. He truly is an incredible young man with an extremely caring side coupled with natural athleticism and an acute intellect. He is currently pursuing a degree in engineering while doing everything he can to help others, including donating for us and also donating blood as often as he can. Barton has strong morals and is always trying to improve himself and those around him.
Genetic Testing
Over the years, we have expanded our genetic testing of donors as genetic knowledge and technology have advanced. As a result, not all donors have been tested for the same conditions or with the same methods. All donors have undergone genetic testing for Cystic Fibrosis, Spinal Muscular Atrophy and Karyotyping.  However, many donors have had more extensive testing performed.
This donor has been evaluated for carrier status of the listed conditions. A negative result reduces, but does not eliminate, the likelihood of the donor being a carrier. If you are a known carrier of a genetic condition please contact us, and we will provide a copy of the donor's test reports to your physician and/or genetic counselor.