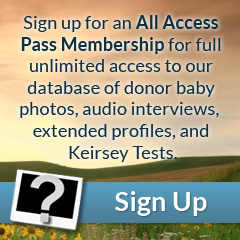 Eyes: Blue/Green
Hair: Brown
Height: 5'10"
Weight (lbs): 178
Blood: O Rh+
CMV: -
Ethnicity: Caucasian, Italian, Turkish
Jewish Ancestry: Yes
Education/Occupation: B.S. Sociology/Psychology / Bank Manager
Live Birth / Pregnancy Confirmed: No
Extended Testing: Yes
Genetically tested for: View
Beckett has the look of a natural athlete- He has a strong, medium build, with large arms and shoulders and a trim core. He has a long, oval face, long straight nose, high cheekbones, and a bright smile. He has gorgeous light olive skin, and thick, dark brown hair.
Beckett comes from a family of athletes- he played varsity basketball and football in high school, and played football collegiately. He is also very apt at math and science, and is currently a Branch Manager of a major bank. Beckett always seems to be in a great mood when he's in the office, and has a lot of charisma and warmth. We really love his easy-going attitude, and his commitment to his family and to helping others!