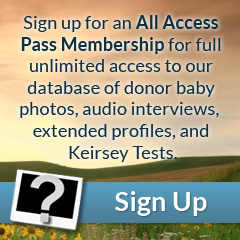 Eyes: Blue/Green
Hair: Brown
Height: 5'10"
Weight (lbs): 178
Blood: O Rh+
CMV: -
Ethnicity: Caucasian, Italian, Turkish
Jewish Ancestry: No
Education/Occupation: B.S. Sociology/Psychology / Bank Manager
Live Birth / Pregnancy Confirmed: No
Extended Testing: Yes
Genetically tested for: View
Beckett has the look of a natural athlete- He has a strong, medium build, with large arms and shoulders and a trim core. He has a long, oval face, long straight nose, high cheekbones, and a bright smile. He has gorgeous light olive skin, and thick, dark brown hair.
Beckett comes from a family of athletes- he played varsity basketball and football in high school, and played football collegiately. He is also very apt at math and science, and is currently a Branch Manager of a major bank. Beckett always seems to be in a great mood when he's in the office, and has a lot of charisma and warmth. We really love his easy-going attitude, and his commitment to his family and to helping others!
Genetic Testing
Over the years, we have expanded our genetic testing of donors as genetic knowledge and technology have advanced. As a result, not all donors have been tested for the same conditions or with the same methods. All donors have undergone genetic testing for Cystic Fibrosis, Spinal Muscular Atrophy and Karyotyping.  However, many donors have had more extensive testing performed.
This donor has been evaluated for carrier status of the listed conditions. A negative result reduces, but does not eliminate, the likelihood of the donor being a carrier. If you are a known carrier of a genetic condition please contact us, and we will provide a copy of the donor's test reports to your physician and/or genetic counselor.