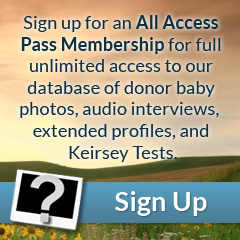 Eyes: Brown
Hair: Dark Brown
Height: 6'02"
Weight (lbs): 184
Blood: B Rh+
CMV: -
Ethnicity: Caucasian, French, Israeli, Italian, Scots-Irish
Jewish Ancestry: Yes
Education/Occupation: B.A. Anthropology / Student, Archaeologist
Live Birth / Pregnancy Confirmed: No
Extended Testing: Yes
Genetically tested for: View
Benjamin has gorgeous, dark brown wavy hair with brown eyes and a fair skin tone. He has the look and physique of a baseball player standing six foot two inches tall and a toned, athletic build.
Benjamin is extremely handsome, but in addition to his appearance, he is very sweet and has a genuine, down to earth personality which makes interactions with him enjoyable. He's pursuing a degree in anthropology and envisions a career in academia and research. With his intelligence and ambition, the sky is the limit for Benjamin! Considering his many attributes, Benjamin truly would make a fantastic donor!