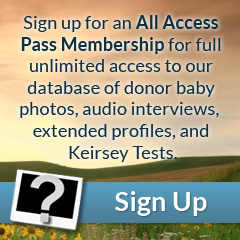 Eyes: Green
Hair: Brown
Height: 6'00"
Weight (lbs): 180
Blood: A Rh+
CMV: -
Ethnicity: Caucasian, English, German, Native American, Norwegian
Jewish Ancestry: No
Education/Occupation: Some College / Credit Analyst
Live Birth / Pregnancy Confirmed: Yes
Extended Testing: No
Genetically tested for: View
Bentley is 6'0" and weighs 180 pounds; his muscles are lean and his build is medium. He has dark-brown hair and almond-shaped, sea-green eyes, which are complemented by long lashes. Bentley's smile reveals a dimple in each cheek and lights up his whole face. His eyebrows are thick but separated; his teeth straight and white; and his nose straight and proportional. Bentley is a genuinely attractive young man.
Bentley takes advantage of his surroundings by hiking, skiing, and camping. He is generally an upbeat and positive individual who puts his energy into his future career in the business world. Bentley maintains a strong and healthy relationship with his family and respects hard work. A good, intelligent, and fun person, Bentley would make a solid match for any family.