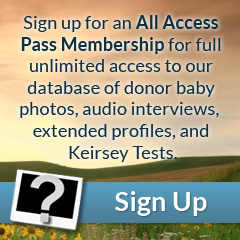 Eyes: Blue
Hair: Blonde
Height: 5'10"
Weight (lbs): 149
Blood: O Rh+
CMV: +
Ethnicity: Caucasian, German
Jewish Ancestry: No
Education/Occupation: B.A. Philosophy, Psychology / Student, Barista
Live Birth / Pregnancy Confirmed: No
Extended Testing: No
Genetically tested for: View
Berkley has a friendly and attractive face, which matches his genial personality extremely well. He has a full head of dark-blonde hair, which he keeps short and neat. His thick eyebrows compliment perfectly his symmetrically placed blue eyes. With a straight nose bridge and impeccable smile, Berkley is truly good-looking.
Berkley is athletic, enjoying soccer, hiking, and rock-climbing. He is thoughtful and calm but can also be outgoing and adventurous. He loves and appreciates nature and values family. When asked why he would like to be a donor Berkley answered, "So many couples who would make excellent parents are unable to have children of their own, for a variety of reasons. I believe that where one is able to help others, one has the responsibility to do so. This is one of many ways I am able to do that." Berkley would make a great donor for any family.