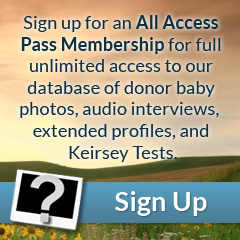 Eyes: Green
Hair: Brown
Height: 5'09"
Weight (lbs): 205
Blood: AB Rh+
CMV: -
Ethnicity: Caucasian, German, Irish
Jewish Ancestry: No
Education/Occupation: BS Engineering / Student
Live Birth / Pregnancy Confirmed: Yes
Extended Testing: Yes
Genetically tested for: View
Brandt's most noticeable feature is his large, muscular build, which he maintains by staying active with gymnastics and competitive weightlifting. He has a head of thick, curly, dark hair, and green eyes that crinkle with his charming smile. He has a rounded face, rosy cheeks, and a smooth complexion with a light olive undertone.
Brandt is reserved, calm, soft spoken, and sincere. He is very polite and a pleasure to talk with when he comes into our office. He is a very well-rounded person who focuses on empathy, though he has a strong analytical mind, and he makes time to stay physically active while managing his academic pursuits. He has admiration for his parents for instilling in him a strong work ethic and caring for others. We think Brandt's amazing physical shape and his good nature make him an amazing donor!