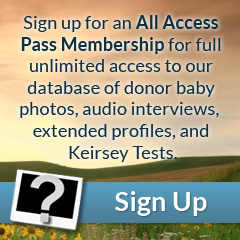 Eyes: Green
Hair: Brown
Height: 5'09"
Weight (lbs): 205
Blood: AB Rh+
CMV: -
Ethnicity: Caucasian, German, Irish
Jewish Ancestry: No
Education/Occupation: BS Engineering / Student
Live Birth / Pregnancy Confirmed: No
Extended Testing: Yes
Genetically tested for: View
Brandt's most noticeable feature is his large, muscular build, which he maintains by staying active with gymnastics and competitive weightlifting. He has a head of thick, curly, dark hair, and green eyes that crinkle with his charming smile. He has a rounded face, rosy cheeks, and a smooth complexion with a light olive undertone.
Brandt is reserved, calm, soft spoken, and sincere. He is very polite and a pleasure to talk with when he comes into our office. He is a very well-rounded person who focuses on empathy, though he has a strong analytical mind, and he makes time to stay physically active while managing his academic pursuits. He has admiration for his parents for instilling in him a strong work ethic and caring for others. We think Brandt's amazing physical shape and his good nature make him an amazing donor!
Genetic Testing
Over the years, we have expanded our genetic testing of donors as genetic knowledge and technology have advanced. As a result, not all donors have been tested for the same conditions or with the same methods. All donors have undergone genetic testing for Cystic Fibrosis, Spinal Muscular Atrophy and Karyotyping.  However, many donors have had more extensive testing performed.
This donor has been evaluated for carrier status of the listed conditions. A negative result reduces, but does not eliminate, the likelihood of the donor being a carrier. If you are a known carrier of a genetic condition please contact us, and we will provide a copy of the donor's test reports to your physician and/or genetic counselor.