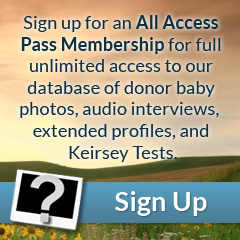 Eyes: Brown
Hair: Brown
Height: 6'00"
Weight (lbs): 190
Blood: A Rh+
CMV: +
Ethnicity: Caucasian, English, German, Native American
Jewish Ancestry: No
Education/Occupation: A.A. Business / Retail Manager
Live Birth / Pregnancy Confirmed: Yes
Extended Testing: Yes
Genetically tested for: View
Brennan has a smooth, clear, and fair complexion, which contrasts very nicely with his dark eyes and dark hair. His facial features fit together perfectly, as they are all symmetrical. Brennan also possesses a fabulous smile, which reveals straight, white teeth. He stands at just six feet, has broad shoulders, and keeps in fantastic shape, as he loves staying physically active.
Aside from great looks, Brennan has an equally wonderful personality. He is bright and cheerful and always up for good conversation. He describes himself as relaxed but determined and focused when it comes to things in life that matter. When asked why he wants to be a donor, Brennan answered, "Because I believe in giving back. I love to help people. I feel like it shows a lot about who a person is when they go out of their way to help others." Brennan is an all-around good person and an excellent donor for any family. We recommend him highly.