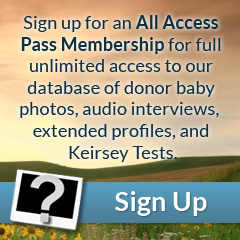 Eyes: Brown
Hair: Dark Brown
Height: 6'00"
Weight (lbs): 172
Blood: A Rh+
CMV: +
Ethnicity: Mix, Colombian, Irish, Mexican, Norwegian
Jewish Ancestry: No
Education/Occupation: B.S. Political Science, Pursuing J.D. / Student, Desk Assistant
Live Birth / Pregnancy Confirmed: No
Donor Description
Donor Brett is available only for a 1-time use in IVF (in-vitro fertilization) (https://www.seattlespermbank.com/limited-release-ivf-only-donors/). This donor produced a small number of vials and due to the limited inventory, each client must be using IVF for a 1-time fertilization of multiple eggs. Please contact our Supervisor, Angelo Allard (angelo@seattlespermbank.com), for more details.
Brett is a tall, handsome young man with a lean, muscular build. He has dark brown hair and matching almond brown eyes. He has round facial features, a wide smile with straight white teeth. Brett has a medium skin tone that darkens in the sun, a very clear complexion and keeps his face clean shaven.
Aside from his good looks, Brett is also very driven and intelligent. He graduated with a degree in Political Science and will be attending Law School as well. He hopes to pursue a career as an attorney or politician in the future. He is also very athletic having been an All State soccer player. Brett is extremely personable, funny and charming and is always up for a good chat with the staff. When asked why he wants to be a donor Brett responded, "This opportunity is at once something I'm doing for myself as well as the family that can benefit from my choice. I want to be able to help a family out that needs it".