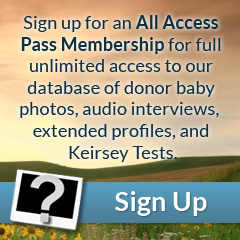 Eyes: Blue
Hair: Dark Brown
Height: 6'03"
Weight (lbs): 175
Blood: B Rh+
CMV: +
Ethnicity: Caucasian, Czech, Dutch, Irish, Norwegian, Swedish
Jewish Ancestry: No
Education/Occupation: B.A. Theology / Custom Woodworking
Live Birth / Pregnancy Confirmed: Yes
Extended Testing: No
Genetically tested for: View
Brogen is very fashionable and trendy. He is tall and thin and we wouldn't be surprised if we saw him on the runway or his picture printed in a fashion magazine. He has straight dark brown hair and dark blue eyes. He has full light pink lips and a nice smile. Brogen has a manly face with a sharp jaw line.
This donor has a wide array of talents and skills. He is a woodworker and is able to build many things by hand including furniture and toys. Brogen is a natural musician and can play by ear with no problem. He is an outdoorsman and loves to go camping or boating. Brogen also loves his wife and his children and dotes on them very highly. Brogen is a very kind and genuine person. He is a little quiet at times but has a great sense of humor and is polite. He is a very deliberate person and he thinks about his actions before he makes a decision. When we asked Brogen why he wanted to be a donor he said ,"I personally know someone who was unable to naturally have a child. With the help of some fertility treatments they are now the happy parents of a healthy little boy. Conception was easy for my wife and I, however, I don't want to ever take it for granted. It is a gift."