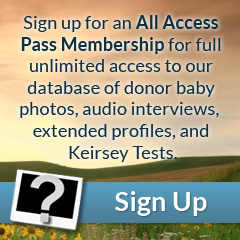 Eyes: Green
Hair: Blonde
Height: 6'00"
Weight (lbs): 210
Blood: AB Rh+
CMV: -
Ethnicity: Caucasian, German, Irish, Italian, Polish
Jewish Ancestry: No
Education/Occupation: B.S. Engineering/ Limited availability
Live Birth / Pregnancy Confirmed: No
Extended Testing: No
Genetically tested for: View
Bronson is handsome with a rugged masculine look. He has a strong chin and jaw. His thick blonde hair has a gorgeous soft curl when he lets it grow out and his green eyes sparkle with charm and mischief. Bronson is very muscular and likes lifting weights to stay in shape. He is often seen wearing his school colors and workout clothes.
Personable and outgoing, it's hard to not love Bronson! He is friendly and can chat with anyone. He likes to have fun and laughs easily. Happiness is incredibly important to Bronson and it is even his ultimate goal in life. His confidence pours out of him and makes him a natural leader. We asked Bronson to describe his relationship with his family and he said, "I have a very close relationship with my family and will continue to do so. I believe it is extremely important to be as close as possible when raising a family because this will ultimately be the structure that will be used to shape the vales and goals later in life." Bronson is a well rounded and sociable which makes him a fantastic donor choice!