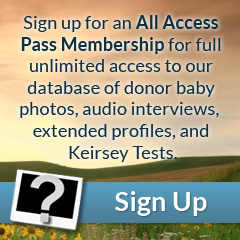 Eyes: Brown
Hair: Brown
Height: 6'01"
Weight (lbs): 205
Blood: A Rh+
CMV: +
Ethnicity: Mix, English, Native American
Jewish Ancestry: No
Education/Occupation: B.A. Business Management / Account Executive
Live Birth / Pregnancy Confirmed: Yes
Extended Testing: No
Genetically tested for: View
Brooks is a tall and well built man with broad shoulders. He weight lifts, runs, and climbs mountains to stay in shape. He has a beautiful olive skin tone with red lips. He has dark hair and dark eyes that always seem to have a twinkle in them.
He was an Infantry Squad Leader for four years with the United States Marine Corp and certainly has the leadership skills to show for it. He has a great sense of humor and can always make someone laugh. When we asked Brooks to describe his personality he said, "I feel that I am very ambitious with my goals. I believe in honesty and integrity and will call it as I see it. I feel that one would have to be a good follower in order to become a good leader. The glass is always half full even on a bad day." Brooks is very true to himself and we love his optimism.