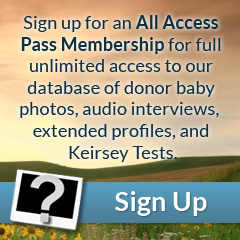 Eyes: Blue
Hair: Light Brown
Height: 6'00"
Weight (lbs): 160
Blood: O Rh+
CMV: -
Ethnicity: Caucasian, English, German, Irish, Polish, Scottish
Jewish Ancestry: No
Education/Occupation: B.A. Economics / Nonprofit Manager
Live Birth / Pregnancy Confirmed: Yes
Extended Testing: Yes
Genetically tested for: View
Bryden has chocolately brown hair, bright blue eyes, and fair skin, with slightly rosy cheeks and a great, big smile that lights up a room. He has a medium build, is in good shape, and is very well kept.
Bryden is particularly thoughtful and articulate, with a witty, dry sense of humor and great communication skills. Our favorite thing about Bryden is his compassion for helping others- Although majoring in Economics, he is extremely passionate about his career in the non-profit sector, currently managing a center for at-risk teens in the area to help them pursue and attain higher education. Bryden is also very well-traveled, and enjoys exercising outside, reading, playing drums, and camping. If you are looking for someone who is particularly intelligent and compassionate, Bryden would be a great choice for you!