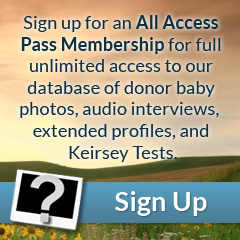 Eyes: Blue
Hair: Light Brown
Height: 6'00"
Weight (lbs): 160
Blood: O Rh+
CMV: -
Ethnicity: Caucasian, English, German, Irish, Polish, Scottish
Jewish Ancestry: No
Education/Occupation: B.A. Economics / Nonprofit Manager
Live Birth / Pregnancy Confirmed: Yes
Extended Testing: Yes
Genetically tested for: View
Bryden has chocolately brown hair, bright blue eyes, and fair skin, with slightly rosy cheeks and a great, big smile that lights up a room. He has a medium build, is in good shape, and is very well kept.
Bryden is particularly thoughtful and articulate, with a witty, dry sense of humor and great communication skills. Our favorite thing about Bryden is his compassion for helping others- Although majoring in Economics, he is extremely passionate about his career in the non-profit sector, currently managing a center for at-risk teens in the area to help them pursue and attain higher education. Bryden is also very well-traveled, and enjoys exercising outside, reading, playing drums, and camping. If you are looking for someone who is particularly intelligent and compassionate, Bryden would be a great choice for you!
Genetic Testing
Over the years, we have expanded our genetic testing of donors as genetic knowledge and technology have advanced. As a result, not all donors have been tested for the same conditions or with the same methods. All donors have undergone genetic testing for Cystic Fibrosis, Spinal Muscular Atrophy and Karyotyping.  However, many donors have had more extensive testing performed.
This donor has been evaluated for carrier status of the listed conditions. A negative result reduces, but does not eliminate, the likelihood of the donor being a carrier. If you are a known carrier of a genetic condition please contact us, and we will provide a copy of the donor's test reports to your physician and/or genetic counselor.