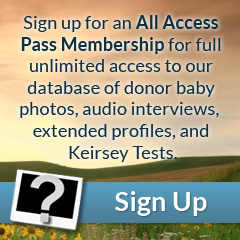 Eyes: Brown
Hair: Dark Brown
Height: 6'02"
Weight (lbs): 190
Blood: A Rh+
CMV: -
Ethnicity: Caucasian, German, Russian
Jewish Ancestry: No
Education/Occupation: B.S. Biology / Baseball coach, Sales
Live Birth / Pregnancy Confirmed: Yes
Extended Testing: Yes
Genetically tested for: View
Calen has Hollywood good looks with his dark, angular features and a stunning smile. He has thick, dark brown hair and large dark eyebrows, high cheekbones, a rugged square jawline, and a strong brow line. He has a medium build, and a natural atheism from a lifetime commitment to sports.  Calen usually has a dark, short beard, and dresses casually but put-together.
Calen comes from a family of brothers, all of whom are athletes. Calen's sport is Baseball, which he has played professionally (Farm Team, AAA) for several years. He has a natural ability for math and science, with an undergrad degree in Biology. Calen is a natural extrovert and a great communicator. If you are looking for someone who Is outgoing, dedicated, and active, Calen would be a great choice for you!