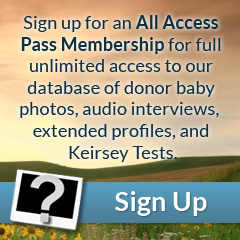 Eyes: Blue
Hair: Light Brown
Height: 5'10"
Weight (lbs): 160
Blood: O Rh+
CMV: +
Ethnicity: Caucasian, English, Icelandic, Irish
Jewish Ancestry: No
Education/Occupation: B.A. / Brewer
Live Birth / Pregnancy Confirmed: Yes
Extended Testing: No
Genetically tested for: View
Cameron has a full head of straight, light-brown hair. He has a lean build and stands just below six feet. His best feature by far is his smile, which makes his blue eyes sparkle and reveals his straight, white teeth. Cameron's clear, light skin and straight nose, along with everything else already mentioned, combine to make him a very attractive donor.
Cameron's personality fits his good looks perfectly, as he is fun, extremely active, and highly intelligent, speaking a total of four different languages. He enjoys snowboarding, relaxing with a good movie, and narwhals! Cameron describes himself as warm, silly, friendly, and thoughtful. We could not agree more. Cameron is a truly genuine person and would make a fabulous donor.