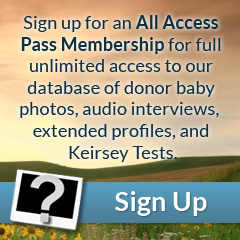 Eyes: Brown
Hair: Dark Brown
Height: 5'10"
Weight (lbs): 150
Blood: O Rh-
CMV: -
Ethnicity: Caucasian, French, German, Scandinavian, Scots-Irish, Spanish
Jewish Ancestry: No
Education/Occupation: BA English and Theatre / Book seller
Live Birth / Pregnancy Confirmed: No
Extended Testing: Yes
Genetically tested for: View
Campbell has thick, wavy, dark brown hair and twinkly brown eyes to match. He is quite handsome with angular features; slightly cleft chin; full lips; a clear, fair completion; medium bone structure; and an athletic, slim build he keeps in shape with his long walks, running, and otherwise maintaining a high level of physical activity.
Campbell lights up a room with his ever-present big smile and warm personality. His understated wit, cordial affect, and humility bring a pleasant levity his interactions. He is an exceptionally talented performer with a beautiful voice; it's truly a treat to hold a conversation with Campbell whether it is about his family or one of the many books he has read recently. Campbell has a truly special personality and intellect. We highly recommend him!
Genetic Testing
Over the years, we have expanded our genetic testing of donors as genetic knowledge and technology have advanced. As a result, not all donors have been tested for the same conditions or with the same methods. All donors have undergone genetic testing for Cystic Fibrosis, Spinal Muscular Atrophy and Karyotyping.  However, many donors have had more extensive testing performed.
This donor has been evaluated for carrier status of the listed conditions. A negative result reduces, but does not eliminate, the likelihood of the donor being a carrier. If you are a known carrier of a genetic condition please contact us, and we will provide a copy of the donor's test reports to your physician and/or genetic counselor.
Since this donor is a carrier for 1 or more conditions, we require that you fill out the Informed Consent document found HERE
This consent form needs to be completed and sent to us, prior to shipment.