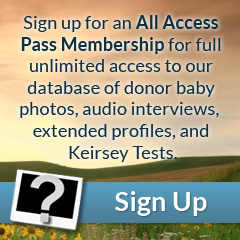 Eyes: Brown/Green
Hair: Dark Brown
Height: 6'02"
Weight (lbs): 180
Blood: O Rh+
CMV: +
Ethnicity: Caucasian, English, German, Irish, Scottish, Welsh
Jewish Ancestry: No
Education/Occupation: B.A. Linguistics / Student
Live Birth / Pregnancy Confirmed: Yes
Extended Testing: No
Genetically tested for: View
Carlton has gorgeous dark hair and a fair complexion. He has nice green brown eyes and pink lips. His nose is long and thin and his face is rounded. Carlton is tall and has a lithe runner's build. Carlton likes to dress comfortably in jeans, button up shirts, and usually has a jacket on.
Polite and quiet are good descriptors for Carlton. He is somewhat of an introvert but can be sociable when he needs or wants to be. He likes singular sports like cycling and swimming. Carlton is also very outdoorsy and enjoys travelling to national parks. When we asked Carlton why he wanted to be a donor he said, " I do not which to have children myself but I understand the urge to have kids, and people who want to but cannot for whatever reason should be able to have that opportunity." If you are looking for a caring, intelligent, and laid back donor then Carlton may be perfect for you!