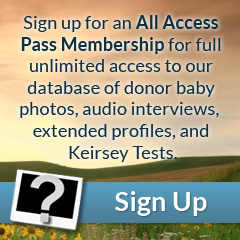 Eyes: Green
Hair: Dark Brown
Height: 5'10"
Weight (lbs): 180
Blood: A Rh+
CMV: -
Ethnicity: Caucasian, Dutch, German, Norwegian
Jewish Ancestry: No
Education/Occupation: B.A. Education and Economics / Student
Live Birth / Pregnancy Confirmed: Yes
Extended Testing: No
Genetically tested for: View
Carlyle is always confident, never arrogant. He keeps calm and relaxed while staying present and aware. Self-described as a "simple man," Carlyle holds wisdom beyond his years and is very comfortable in his own skin. He has kind green eyes and a full head of wavy brown hair that he keeps neat and trim. Carlyle also sports a beard that he keeps equally trim and short; the beard fits him and his personality perfectly. His build is average, and he stays in fantastic physical shape by hiking and generally being active outdoors. Carlyle has rugged good looks.
Carlyle loves painting and has honed his skills enough to sell his work. He is also a true giver—helping others has always been something that came naturally for him. Carlyle enjoys goofing around, dancing like no one is watching, but always carries himself with a great deal of honor and pride. When asked why he wanted to be a donor, Carlyle answered: "There is no reason for me not to donate...Bringing more strong and capable people into this world will, in the long run, help humanity far more than I possibly could with the meager amount of time I would save by not donating."