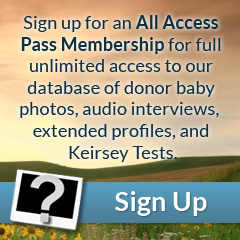 Eyes: Brown
Hair: Blonde
Height: 5'11"
Weight (lbs): 174
Blood: O Rh+
CMV: -
Ethnicity: Caucasian, Lithuanian, Swedish
Jewish Ancestry: No
Education/Occupation: B.S. Biology, Dental School / Dentist
Live Birth / Pregnancy Confirmed: Yes
Extended Testing: Yes
Genetically tested for: View
Casper is a very attractive man with blonde hair and warm brown eyes.  He has an athletic physique, as he loves to stay active with sports and everyday activities.  His facial features are very symmetric and he has a great complexion.
This donor has won over everyone in the clinic with his caring presence and thoughtful nature.  He is a very ambitious and driven individual, which we are sure that he will accomplish great things in his life.  Aside from being a Biology/Pre-Dental major, he also has many other interests including photography, camping, and traveling. Casper is a proven donor, with healthy and attractive offspring.
Genetic Testing
Over the years, we have expanded our genetic testing of donors as genetic knowledge and technology have advanced. As a result, not all donors have been tested for the same conditions or with the same methods. All donors have undergone genetic testing for Cystic Fibrosis, Spinal Muscular Atrophy and Karyotyping.  However, many donors have had more extensive testing performed.
This donor has been evaluated for carrier status of the listed conditions. A negative result reduces, but does not eliminate, the likelihood of the donor being a carrier. If you are a known carrier of a genetic condition please contact us, and we will provide a copy of the donor's test reports to your physician and/or genetic counselor.
Since this donor is a carrier for 1 or more conditions, we require that you fill out the Informed Consent document found HERE
This consent form needs to be completed and sent to us, prior to shipment.