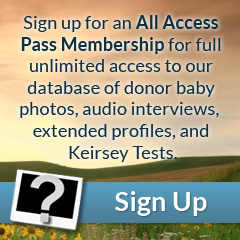 Eyes: Brown
Hair: Blonde
Height: 5'11"
Weight (lbs): 174
Blood: O Rh+
CMV: -
Ethnicity: Caucasian, Lithuanian, Swedish
Jewish Ancestry: No
Education/Occupation: B.S. Biology, Dental School / Dentist
Live Birth / Pregnancy Confirmed: Yes
Extended Testing: Yes
Genetically tested for: View
Casper is a very attractive man with blonde hair and warm brown eyes.  He has an athletic physique, as he loves to stay active with sports and everyday activities.  His facial features are very symmetric and he has a great complexion.
This donor has won over everyone in the clinic with his caring presence and thoughtful nature.  He is a very ambitious and driven individual, which we are sure that he will accomplish great things in his life.  Aside from being a Biology/Pre-Dental major, he also has many other interests including photography, camping, and traveling. Casper is a proven donor, with healthy and attractive offspring.