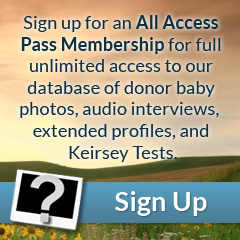 Eyes: Brown
Hair: Dark Brown
Height: 5'09"
Weight (lbs): 175
Blood: A Rh+
CMV: +
Ethnicity: Mix, Japanese, Mixed European
Jewish Ancestry: No
Education/Occupation: B.S. Political Science/ Pre-Law
Live Birth / Pregnancy Confirmed: Yes
Test Results
Extended Testing: No
Carrier For:

No disease causing mutations detected

Results for Karyotyping / Spinal Muscular Atrophy:
Results with No Disease Causing Mutations: View full list
Donor Description
Ceasar is ¾ Japanese and ¼ European, and 100% handsome. He got the best of both worlds concerning his features; he is truly adorable and good looking. He has a big bright smile, bright rich brown eyes, full cheeks, and thick dark brown hair. He has a light creamy skin tone and flawless complexion. He has an athletic build and maintains an active lifestyle. He has a chiseled jaw line and full dark pink lips.
Ceasar is inherently sweet and outgoing. He chats with all of the staff and we all know him well, he is a joy to have in the clinic and more so in the program. When we asked him to describe his personality he said, "I'm easy going but ambitious, I've always been able to get along well with everybody although I am not a pushover, I would say that I am perfectly balanced between an extrovert and an introvert." We couldn't agree more.
He is a pre-law student and hopes to obtain is J.D and MBA in his future schooling. He loves music and owns his own mobile DJ company. He is an entrepreneur and a student, difficult to come by all at once but this donor is ambitious, intelligent, hard working, and well prepared for the future, we love Ceasar, he is an outstanding person and donor.