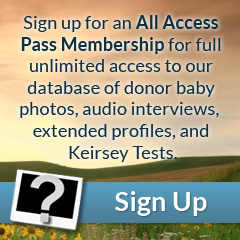 Eyes: Brown
Hair: Black
Height: 6'05"
Weight (lbs): 210
Blood: A Rh-
CMV: +
Ethnicity: Mix, African-American, Mixed European
Jewish Ancestry: No
Education/Occupation: B.A. Community and Environmental Planning
Live Birth / Pregnancy Confirmed: No
Extended Testing: No
Genetically tested for: View
This donor is hard not to notice with his beaming personality and his tall stature. Cedric is handsome with a flawless complexion and bright smile. He has an athletic, toned, and muscular physique. He plays sports of all kinds and loves staying in shape.
Cedric is a full time student and is very driven in his career path. Working with the community and environment are both a passion of his that he hopes to make a difference in.
This donor is outgoing and very charming. It is hard not to stop and share a conversation with him when he is in the clinic. Inherently upbeat, his jovial nature is contagious. Well spoken and polite this donor is a true joy for us to have in our program.