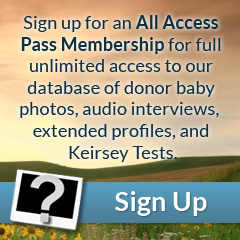 Eyes: Brown/Green
Hair: Dark Brown
Height: 6'02"
Weight (lbs): 180
Blood: A Rh+
CMV: +
Ethnicity: British, Caucasian, Irish
Jewish Ancestry: No
Education/Occupation: B.S. Kinesiology / Exercise Physiologist
Live Birth / Pregnancy Confirmed: No
Extended Testing: Yes
Genetically tested for: View
Chad is six foot two inches tall and is extremely fit with a strong, lean build. Being an amateur cyclist and currently pursuing his dream of going pro, he keeps his body in fantastic shape by cycling six days a week in addition to strength training. Chad has short, dark brown hair, a few freckles, and beautiful green/brown eyes that light up his face. He's extremely attractive and even more so when he flashes his charming smile.
It is easy to spot that Chad is comfortable with who he is as an individual, and his personality shines brightly because of this. He is easy going yet has a high energy. He loves to laugh and have fun but knows when to show his more serious, sincere side which is truly genuine. He doesn't let fear hold him back on his path to accomplishing his goals which is just one of his many admirable traits. Chad's good-natured attitude, open-mindedness, resilience, and determination are all strengths he possesses that make the sky the limit when it comes to achieving his dreams. Chad's inner and outer beauty makes him an exceptional choice as a donor!