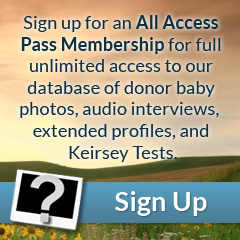 Eyes: Blue/Green
Hair: Brown
Height: 6'01"
Weight (lbs): 225
Blood: B Rh+
CMV: -
Ethnicity: Caucasian, English, German, Irish, Russian
Jewish Ancestry: No
Education/Occupation: B.A. Business / Merchandise Retailer
Live Birth / Pregnancy Confirmed: Yes
Extended Testing: No
Genetically tested for: View
Channing has blue-green eyes and short, straight brown hair. He has a square face and well-defined jawline and a smile that reveals straight, white teeth. Channing is tall and muscular with broad shoulders. While his skin tone is on the fair side, he tans very nicely after being in the sun.
Channing attends college and excels due to a strong work ethic instilled in him by this father. He loves lifting weights, watching football, and being with family and friends. A self-described introvert, Channing enjoys being with groups but needs to make time to relax and be alone. Observant, charming, and intelligent, Channing is a great person and understands the importance of being in the donor program.