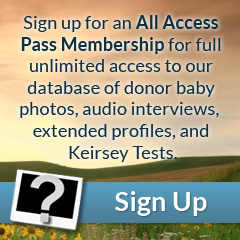 Eyes: Brown
Hair: Brown
Height: 6'00"
Weight (lbs): 170
Blood: A Rh+
CMV: -
Ethnicity: Caucasian, German, Irish
Jewish Ancestry: No
Education/Occupation: B.A. Accounting/ Wait list recommended
Live Birth / Pregnancy Confirmed: Yes
Extended Testing: No
Genetically tested for: View
Chapman is very handsome with deep brown eyes and hair. He has a terrific smile! Chapman has an athletic build and excelled at track and football in school. He has masculine features, and tends to wear athletic gear and t-shirts.
Chapman is outgoing and friendly. He has strong leadership skills and likes helping others. When we asked why he wanted to be a donor, Chapman said, "I want to give others the opportunity to [have] children that might not otherwise." We think this answer speaks to his genuine desire to aid other people. Chapman is a great donor!