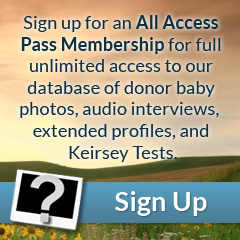 Eyes: Brown
Hair: Black
Height: 5'09"
Weight (lbs): 140
Blood: B Rh+
CMV: -
Ethnicity: Asian, Chinese
Jewish Ancestry: No
Education/Occupation: B.A. Photography / Business Owner
Live Birth / Pregnancy Confirmed: No
Extended Testing: Yes
Genetically tested for: View
Chase Staff Impression
Chase's face is very expressive and happy. He has beautiful, almond-shaped eyes with long eyelashes, a round, tan face, and a huge smile. Chase is lean and very fit without looking overly athletic. He has a trendy yet casual appearance and in general has a very inviting and laid-back demeanor.
Chase's personality seems reserved at first, but he is actually one of the most engaging and fun to talk to people in the office- he is very thoughtful, inquisitive, and is always quick with a joke. Chase is an avid motorcycle enthusiast- he is a collector, racer, mechanic, and sells and distributes vintage motorcycle parts as his primary source of income. Chase is also very artistic (he majored in Photography), and musical. We really like Chase, and we think he'd be a great donor for any family!
Genetic Testing
Over the years, we have expanded our genetic testing of donors as genetic knowledge and technology have advanced. As a result, not all donors have been tested for the same conditions or with the same methods. All donors have undergone genetic testing for Cystic Fibrosis, Spinal Muscular Atrophy and Karyotyping.  However, many donors have had more extensive testing performed.
This donor has been evaluated for carrier status of the listed conditions. A negative result reduces, but does not eliminate, the likelihood of the donor being a carrier. If you are a known carrier of a genetic condition please contact us, and we will provide a copy of the donor's test reports to your physician and/or genetic counselor.