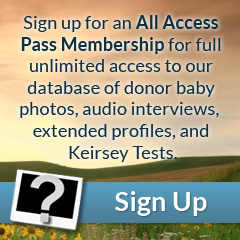 Eyes: Brown
Hair: Black
Height: 5'09"
Weight (lbs): 140
Blood: B Rh+
CMV: -
Ethnicity: Asian, Chinese
Jewish Ancestry: No
Education/Occupation: B.A. Photography / Business Owner
Live Birth / Pregnancy Confirmed: No
Extended Testing: Yes
Genetically tested for: View
Chase's face is very expressive and happy. He has beautiful, almond-shaped eyes with long eyelashes, a round, tan face, and a huge smile. Chase is lean and very fit without looking overly athletic. He has a trendy yet casual appearance and in general has a very inviting and laid-back demeanor.
Chase's personality seems reserved at first, but he is actually one of the most engaging and fun to talk to people in the office- he is very thoughtful, inquisitive, and is always quick with a joke. Chase is an avid motorcycle enthusiast- he is a collector, racer, mechanic, and sells and distributes vintage motorcycle parts as his primary source of income. Chase is also very artistic (he majored in Photography), and musical. We really like Chase, and we think he'd be a great donor for any family!