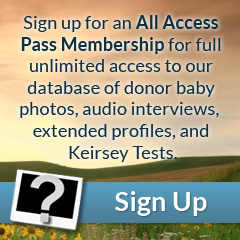 Eyes: Brown
Hair: Dark Brown
Height: 6'03"
Weight (lbs): 250
Blood: A Rh+
CMV: -
Ethnicity: Dutch, English, German, Norwegian, Swedish
Jewish Ancestry: No
Education/Occupation: A.A. Exercise Science/ EMT Certification / EMT
Live Birth / Pregnancy Confirmed: Yes
Extended Testing: No
Genetically tested for: View
Clifford's Scandinavian heritage is readily apparent when you meet him- he has a rather 'Viking-esque' appearance, standing at 6'2" and having a large, strong frame. He has large, dominant features, including big, beautiful brown eyes with long eyelashes and full lips and wide smile. He has wonderfully thick brown hair and a naturally clear skin tone with is fair to medium but tans nicely.
Well-suited because of his frame and natural athleticism, Clifford has been a star rugby player for many years. He also does a lot of weight training and loves to get outdoors and go hiking around the Pacific Northwest (he said his favorite animal is a grizzly bear, which seems very appropriate). His job as an EMT is also very physical and keeps him engaged as motivated as he works towards his career goal of becoming a firefighter. He is also particularly musical and plays guitar and ukulele all the time. Clifford is a favorite here at SSB because he is super extroverted, polite, funny, and great to converse with. He self-describes as being 'independent to a fault,' but also really values the close relationship he has with his family and the good values instilled in him by his parents. If you are looking for someone strong, spirited, and independent, Clifford would be a great choice for you.