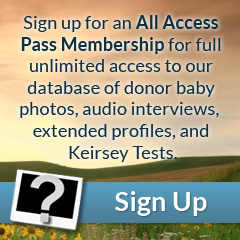 Eyes: Brown
Hair: Brown
Height: 6'03"
Weight (lbs): 170
Blood: O Rh+
CMV: +
Ethnicity: Caucasian, Danish, English, German, Norwegian, Swedish, Swiss
Jewish Ancestry: No
Education/Occupation: BS Biology / Paralegal
Live Birth / Pregnancy Confirmed: No
Extended Testing: Yes
Genetically tested for: View
Cole's quiet demeanor and charming smile make him handsome and mysterious. Standing tall at 6'3" he has long fit arms and an athletic frame that he maintains by playing soccer, basketball, and doing parkour. He keeps his brown hair clean and stylish which suits his overall nice guy look.
Cole describes himself as driven and goal oriented. He places a great importance on family and wishes to have his own one day. Cole is a leader and thrives to learn. This is apparent by his ability to speak Mandarin and excel in math. His hobbies include reading a good book, baking, and running. Cole is an overall kind man. All these qualities make him an excellent choice.