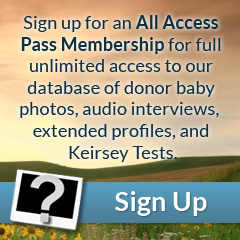 Eyes: Brown
Hair: Brown
Height: 5'09"
Weight (lbs): 155
Blood: B Rh+
CMV: -
Ethnicity: Caucasian, English
Jewish Ancestry: Yes
Education/Occupation: B.A. English/Philosophy / Student, Editorial Assistant
Live Birth / Pregnancy Confirmed: No
Extended Testing: Yes
Genetically tested for: View
Colton is a handsome, caring, thoughtful young man who is wise beyond his years. His deep-set brown eyes are kind and his smile charming. Colton is of average height and build. His thick dark hair suites his fair skin tone. He keeps a well-groomed full beard and prominent eyebrows.
Colton is a very talented writer, and artist. He spends his spare time either lost in a book, writing his screen play, or enjoying the beautiful Pacific Northwest on a walk with a four-legged friend. He has a very close relationship with his family and he thanks them for his positive outlook on caring for others. You can also find Colton volunteering his time to our local community. Colton is a perfect donor for our program and we think he could be the right donor for you.