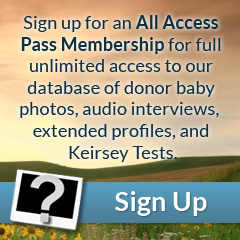 Eyes: Blue/Green
Hair: Brown
Height: 5'09"
Weight (lbs): 165
Blood: O Rh+
CMV: +
Ethnicity: British, Caucasian, German, Native American
Jewish Ancestry: No
Education/Occupation: Master's Degree in Psychology / Produce Clerk
Live Birth / Pregnancy Confirmed: No
Extended Testing: Yes
Genetically tested for: View
Conroy walks into our office with a laid back, friendly personality. His calm, sweet disposition pairs well with his sandy brown hair and striking green eyes. With a medium complexion and a light dusting of freckles, Conroy is very handsome. His casual style along with an inviting smile suit his overall good looks.
Conroy has a witty sense of humor. He comes off as somewhat quiet, but well-spoken. Having achieved a Masters degree in Psychology, Conroy is intelligent and thoughtful. He spends his free time playing the guitar and staying fit by doing Jiu Jitsu. Conroy also takes full advantage of the Pacific Northwest by being outdoors hiking, hunting, and fishing. If you are looking for a smart, good-looking, level-headed guy, Conroy may be the donor for you!