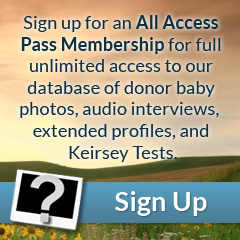 Eyes: Blue
Hair: Red
Height: 5'10"
Weight (lbs): 170
Blood: A Rh+
CMV: +
Ethnicity: Caucasian, Dutch, German, Irish
Jewish Ancestry: No
Education/Occupation: B.A. Political Science, Art School/ Limited availability / Campaigner
Live Birth / Pregnancy Confirmed: No
Extended Testing: No
Genetically tested for: View
Cormick has bright wavy orangey-red hair and blue eyes. He has a light complexion with a small smattering of freckles. Cormick is cute and has rounded facial features. He has a thin runner's build and is a cyclist. Cormick has an amazing and fun sense of style and loves to pair bright colors together.
Optimistic, artistic, and caring are the three best words to describe Cormick. He spent two years in art school and regularly is featured in shows. Cormick also plays trumpet and cello. He is very friendly and laid back. We asked Cormick why he wanted to be a donor and he said," I want to be a donor because I want to have a family myself. Starting a new family soon, I would be devastated if I weren't able to have a child. Having a third option like this is absolutely wonderful, and I would like to do everything in my power to facilitate such an option. " We like Cormick's genuine personality and his fun-loving attitude.