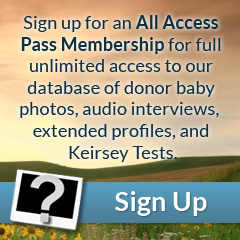 Eyes: Brown/Green
Hair: Dark Brown
Height: 5'07"
Weight (lbs): 161
Blood: A Rh+
CMV: -
Ethnicity: Caucasian, English, German, Irish
Jewish Ancestry: No
Education/Occupation: J.D. (Law), B.A. English / Lawyer
Live Birth / Pregnancy Confirmed: Yes
Extended Testing: Yes
Genetically tested for: View
Craig has a very symmetrical, round face. He has green/brown eyes and is usually clean shaven, but on occasion he will grow out a full beard that he keeps neat and trimmed. Craig has a medium, smooth complexion. Craig has a medium build and stays in shape with regular exercise including running, swimming and yoga.
Craig is extremely intelligent and currently works as a lawyer. He is fairly reserved when you first meet him, but once he is comfortable he opens up and has a great sense of humor. Craig laughs readily and is laid back. He definitely has a creative side and enjoys things that are new, adventurous and unexpected. Craig is very family oriented and does a great job of balancing his work and home life, cherishing the time he has with his children and wife.