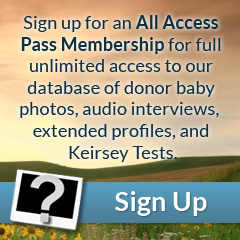 Eyes: Green
Hair: Brown
Height: 5'08"
Weight (lbs): 162
Blood: O Rh+
CMV: -
Ethnicity: Caucasian, French, German, Irish, Scottish
Jewish Ancestry: No
Education/Occupation: B.A. Theatre / Student, Cashier
Live Birth / Pregnancy Confirmed: No
Extended Testing: Yes
Genetically tested for: View
Dale has a smile that lights up the room. His bright, blue-green eyes elegantly compliment his smooth, clear complexion. He stands at 5'8" and dresses typically in sporty clothing with a baseball cap which matches his athletic build. His thick hair is a golden, warm brown, and he has a set of full, well-groomed eyebrows most would envy.
Dale comes across shy and is quite modest but is extremely genial when conversing amongst the staff. Although he loves his video games just as much as the next guy, he is not short of intelligence as he is a big history buff with an endless stream of knowledge when it comes to his passion for history. In addition, we especially appreciate how he adds lots of laughter to our day with his remarkable ability to do impressions of characters with his voice sounding so on point. Dale's dream is to one day be a voiceover artist and based on the talent we've seen, he really has star quality!