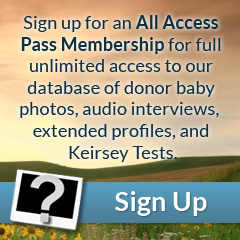 Eyes: Brown
Hair: Light Brown
Height: 6'01"
Weight (lbs): 202
Blood: A Rh+
CMV: +
Ethnicity: Caucasian, Irish
Jewish Ancestry: No
Education/Occupation: B.A. Exercise Science and Physical Education / Personal Trainer and Soccer Coach
Live Birth / Pregnancy Confirmed: Yes
Extended Testing: No
Genetically tested for: View
Dallas is incredibly athletic and well built. He was a professional soccer player and remains very involved in sports to this day. Dallas is good looking and sports a set of cute dimples. He has brown eyes, brown hair, and a medium skin tone that tans to a golden brown easily. He is almost always dressed in work out gear or sports jerseys.
Dallas has a wonderful smile and is typically seen either smiling or laughing. He has an open and friendly sense of humor. He is very passionate and dedicates his all to things he enjoys, like sports or teaching children. Dallas chose to be a donor because he has his own children and sees the joy they have brought to his life. Dallas is a well balanced person and a fantastic donor.