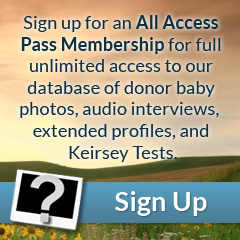 Eyes: Blue
Hair: Blonde
Height: 6'01"
Weight (lbs): 165
Blood: O Rh+
CMV: -
Ethnicity: Caucasian, English, French, German
Jewish Ancestry: No
Education/Occupation: B.S. Environmental Studies / Retail, Student
Live Birth / Pregnancy Confirmed: Yes
Extended Testing: Yes
Genetically tested for: View
Dane is a smart young man with kind eyes and a youthful face. His complexion is clear, with a beautiful skin tone that is between fair and olive. Dane stands just over six-feet tall, with long, lean muscles and an athletic prowess. With high cheekbones, a defined jawline, and blue eyes, Dane makes quite a handsome addition to our menu of donors.
Dane is one of our most well-rounded donors, as he brings to the table artistic, technical, and athletic talents. His demeanor is friendly and a bit shy, but he always wears a smile. This donor appreciates diversity, gaining new knowledge of the world around him, and keeping close ties with family and good friends. Dane will make a tremendous match for many, many families.