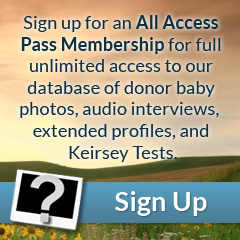 Eyes: Brown
Hair: Black
Height: 6'01"
Weight (lbs): 175
Blood: O Rh+
CMV: +
Ethnicity: Mix, African-American, German
Jewish Ancestry: No
Education/Occupation: B.A. Sociology and Communication / Student
Live Birth / Pregnancy Confirmed: Yes
Extended Testing: No
Genetically tested for: View
Darrius is 6'1," weighs 175 pounds, and is in incredible shape, with long and lean muscles, from playing sports his whole life. His skin tone is a wonderful almond, which goes very well with his dark-brown hair. Darrius has a great smile; straight, white teeth; and symmetrical facial features.
Darrius is a very driven individual, competes in track and field at the Division I level, and is proud to be the first member of his family to attend college. Darrius comes from a close family that instilled many strong values in him as a child. Additionally, he desires to have his work be related to helping underprivileged kids in his community after he graduates from college.