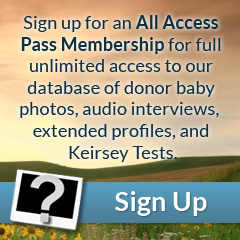 Eyes: Brown/Green
Hair: Strawberry Blonde
Height: 6'03"
Weight (lbs): 182
Blood: A Rh+
CMV: -
Ethnicity:
Jewish Ancestry: No
Education/Occupation: B.A. Politics, sociology, psychology / Teacher, writer
Live Birth / Pregnancy Confirmed: Yes
Extended Testing: No
Genetically tested for: View
This donor has a wonderful upbeat personality. He is tall and slender with a warm smile and cute dimples. He is very exuberant and loves to chat with the staff. He is an open and honest individual. He loves to share with us about his adventures with nature. Not even rain can damper his mood, he actually enjoys it. He is very humorous and is always making us laugh, which is one of the reasons we enjoy him as a donor so much.