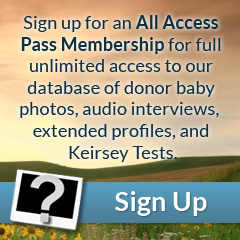 Eyes: Blue
Hair: Brown
Height: 5'11"
Weight (lbs): 155
Blood: B Rh+
CMV: -
Ethnicity: Caucasian, English, French, German, Native American
Jewish Ancestry: No
Education/Occupation: B.A Philosophy and Italian Studies
Live Birth / Pregnancy Confirmed: Yes
Extended Testing: No
Genetically tested for: View
Daylen has dark brown hair and deep blue eyes. He has a light skin tone with a smattering of adorable freckles across his cheeks, a thin oval face, and a bright smile. He has a thin runner's build and enjoys running to keep in shape.
When we asked Daylen what made him unquie he said, "My general sunny disposition on life. With all the stuff I had to go through having a single mother, my mentality towards life is that no matter what happens, it could always be worse, and I'll always get through it." Daylen comes across as an incredibly fun-loving guy. He enjoys making jokes and always has a smile on his face. Daylen describes his personality as "In a nutshell, I'm going to make you laugh, and I'm going to offer to help you with something if you need it." He is geniune, witty, and kind. We think Daylen would be an amazing donor for any family!