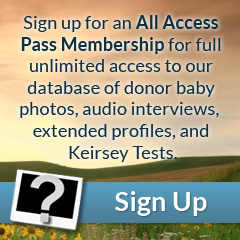 Eyes: Blue
Hair: Brown
Height: 6'00"
Weight (lbs): 204
Blood: A Rh+
CMV: +
Ethnicity: Caucasian, English, German, Scandinavian, Welsh
Jewish Ancestry: No
Education/Occupation: B.S. Construction Management and Engineering/ Available in Summer 2014
Live Birth / Pregnancy Confirmed: No
Extended Testing: No
Genetically tested, and found to be negative, for: View
Denver has a cute boyish face. He has curly light brown hair that has flecks of blonde in it and dark crystal blue eyes. He has a medium skin tone that tans nicely. He has naturally ruddy coloring and pink lips. Denver has a sweet smile and a well defined chin. He has a strong athletic build, perfect for construction! Denver dresses in brightly colored shirts and work out gear.
Denver is open and friendly. He has a bit of an old western "cowboy" type of presence with natural leadership skills, hard working attitude, and outdoorsman nature. Denver is very intelligent and also excels in sports. We asked Denver why he wanted to be a donor and he said, "Much as I have donated blood and plasma in the past, I feel that sperm donation
is very similar. They are all resources that my body can rapidly regenerate, and there is very low risk involved in the donation itself. For something to have such an upside for the people in need that either benefit directly from it, or indirectly through the research performed, it gives off a good sense of wellbeing, and helpfulness. While I have no personal stories to relate to on sperm donation, I can only imagine the joy of families that are able to successfully have children of their own, when they would otherwise not be able to normally." If you are looking for an outgoing, hardworking, smart, and gentlemanly donor, Denver might just be the right match for you!