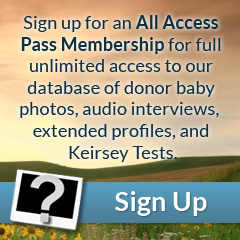 Eyes: Brown
Hair: Black
Height: 6'00"
Weight (lbs): 170
Blood: O Rh+
CMV: +
Ethnicity: African-American, Nigerian
Jewish Ancestry: No
Education/Occupation: A.A. General Studies/ Aerospace and System Manufacturing Technician / Aerospace Technician
Live Birth / Pregnancy Confirmed: Yes
Extended Testing: No
Genetically tested for: View
Donell is a resident favorite here at the lab. He is cheerful, witty, and fun to chat with. He loves his family and is often talking about their experiences and how much fun they have together.
Donell has very full lips, dark brown eyes and black hair. He has a lean/athletic physique. He dresses in a trendy and casual fashion. Donell is adorable and all the ladies at the lab agree.
He works as an Aerospace Technician while furthering his studies in school. He plays a variety of sports and loves to stay active in the outdoors as well, hiking and camping are some of his favorites. When we asked him to describe a few of his strong sides he said, "My Pride, wit, intelligence, and the ability to adapt very quickly."