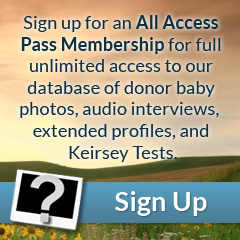 Eyes: Brown
Hair: Brown
Height: 6'00"
Weight (lbs): 186
Blood: O Rh+
CMV: -
Ethnicity: Caucasian, German
Jewish Ancestry: No
Education/Occupation: M.A. Economics / Data Scientist
Live Birth / Pregnancy Confirmed: Yes
Test Results
Extended Testing: No
Carrier For:

No disease causing mutations detected

Results for Karyotyping / Spinal Muscular Atrophy:
Results with No Disease Causing Mutations: View full list
Donor Description
This outgoing and charming donor has a wonderful ability to transform your mood into his, which is always incredibly upbeat and happy.  He has a bright and warm smile that can brighten up any room.  He has a great sense of humor and wit.
Elijah is one of our most handsome donors.  He has full lips, a charming and bright smile, tan complexion, bright brown eyes, and medium brown hair.  He is an avid athlete, always staying busy outdoors; playing on numerous sport teams such as softball and football to name a few.  He in turn has a toned athletic body.
He is mathematically inclined and is an Economics PhD student, with a BS in applied mathematics and economics.  He is also very creative and loves music, as he plays the mandolin and banjo.  He loves his family and values his friendships to the same degree in which he values his family; with the highest regard.
Elijah has the charisma and drive to achieve absolutely anything that he puts his mind to.  He hopes to teach in the future and continue learning throughout his life.  This donor has an open mind and an open heart, participating in the program for all the right reasons; he is truly quite a catch!