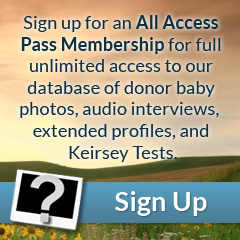 Eyes: Blue
Hair: Brown
Height: 6'01"
Weight (lbs): 200
Blood: A Rh+
CMV: +
Ethnicity: Caucasian, Dutch, English, Irish, Native American, Scottish
Jewish Ancestry: No
Education/Occupation: B.A. Economics / E.M.T.
Live Birth / Pregnancy Confirmed: Yes
Test Results
Extended Testing: No
Carrier For:

No disease causing mutations detected

Results for Karyotyping / Spinal Muscular Atrophy:
Results with No Disease Causing Mutations: View full list
Donor Description
Ellison is rugged and handsome. He is tall and has a wide build, perfect for playing rugby! He wears his thick wavy hair chopped short and keeps his facial hair just a little shorter. Ellison has jewel toned blue eyes that sparkle with amusement. He has an attractive smile with a deep dimple on one side of his face. Ellison dresses for comfort and sports with jeans or shorts and a t-shirt under his motorcycle gear.
We like Ellison's answer to his ultimate ambition or goal in life: "My goal is to be happy and do what I can to help others find happiness. I would also like a family of my own. More specifically, I want to be a paramedic and eventually works towards expanding the scope of practice for out-of-hospital care." He is currently working taking care of elderly adults with disabilities for his day job, while he trains as a paramedic.
Ellison is a man's man with a sweet and caring side. He is incredibly athletic and was a javelin thrower in college. Ellison likes to make people laugh and has a funny and slightly sarcastic sense of humor. He is a self-described introvert, but we always see him as very sociable and friendly when in our office. We think Ellison is very thoughtful and we love his open, honest transparency. We highly recommend this donor!