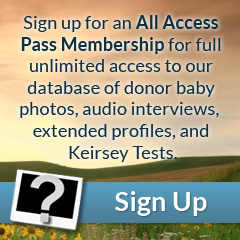 Eyes: Brown
Hair: Dark Brown
Height: 6'04"
Weight (lbs): 185
Blood: AB Rh+
CMV: +
Ethnicity: Caucasian, English, German, Italian
Jewish Ancestry: No
Education/Occupation: B.S. Physics
Live Birth / Pregnancy Confirmed: Yes
Extended Testing: Yes
Genetically tested for: View
Emmett is a gorgeous man! He has light brown hair streaked with natural blonde highlights that looks great worn short or long. He has trustworthy brown eyes and tans nicely. Emmett has full light pink lips and adorable dimples. Emmett is tall with broad shoulders and is a great athlete. He typically wears dark trendy clothes.
Emmett describes himself as eccentric and creative. He plays mandolin and enjoys many different arts. He fenced and wrestled for many years in high school and has remained active. Emmett is very quick witted and sharp, yet soft spoken. We asked Emmett why he wanted to be a donor and he said, "I like helping out those in need, and this is a very simple, easy way to do that. Instead of wasting a lot of potential, I can use my own body to give someone else a wonderful, life-changing gift. I think it is a complete win-win for all parties involved." We think Emmett is a very interesting person with a lot of depth and character. We highly recommend him as a donor!
Genetic Testing
Over the years, we have expanded our genetic testing of donors as genetic knowledge and technology have advanced. As a result, not all donors have been tested for the same conditions or with the same methods. All donors have undergone genetic testing for Cystic Fibrosis, Spinal Muscular Atrophy and Karyotyping.  However, many donors have had more extensive testing performed.
This donor has been evaluated for carrier status of the listed conditions. A negative result reduces, but does not eliminate, the likelihood of the donor being a carrier. If you are a known carrier of a genetic condition please contact us, and we will provide a copy of the donor's test reports to your physician and/or genetic counselor.