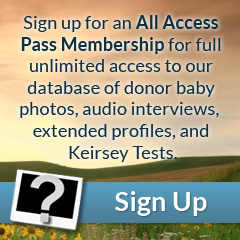 Eyes: Brown
Hair: Dark Brown
Height: 6'03"
Weight (lbs): 210
Blood: B Rh+
CMV: -
Ethnicity: Mix, Filipino, German, Irish
Jewish Ancestry: No
Education/Occupation: B.S. Exercise Science / Student, Facility maintenance
Live Birth / Pregnancy Confirmed: No
Extended Testing: Yes
Genetically tested for: View
When Eric walks into the office, he is first noticed by his gorgeous, thick, dark-brown hair and amber, brown eyes.  Eric's mother's Mixed Filipino/Irish ethnicity has given him an appearance of a Caucasian with a wonderful skin tone and Mediterranean like features.  His above average height of 6'3" mixed with a strong build also demands attention, but when he flashes his warm, sincere smile, he is not the least bit intimidating. Eric comes across as a wholesome, "boy next door" type with a sweet disposition yet balances out his persona with just the right amount of masculinity.
Eric is a bit on the shy side, but when he's engaged in a conversation, his intelligence and personality shines. He's has an admirable work ethic and is very dedicated to everything from his career and education to his friends and family. Eric truly has a kind soul and you can feel his warmth and sincerity when in his presence.