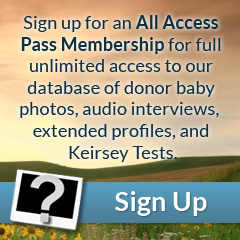 Eyes: Brown
Hair: Black
Height: 5'09"
Weight (lbs): 170
Blood: B Rh+
CMV: +
Ethnicity: African-American
Jewish Ancestry: No
Education/Occupation: B.A. Interdisciplanery Studies / Personal Trainer
Live Birth / Pregnancy Confirmed: Yes
Extended Testing: No
Genetically tested for: View
Ezekiel has smooth brown skin and a lean build. His eyelashes are long and curled, which bring out his dark-brown eyes. His face is oval with a very nice bone structure. His lips are dark-pink and very full. Ezekiel keeps his hair long, in tight, neat dreadlocks. His look is unique and quite attractive.
A hard-working young man, Ezekiel got a job after high school and saved up enough money to put himself through college, an accomplishment of which he is very proud. He loves sports and particularly likes watching track and field. Ezekiel is also a very talented artist, being able to draw almost anything he sees. He describes himself as strong-minded, realistic, and sympathetic to the needs of others around him, making him an extremely well-rounded individual and a great donor.