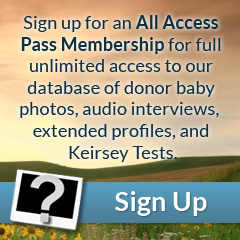 Eyes: Brown/Green
Hair: Brown
Height: 5'11"
Weight (lbs): 165
Blood: O Rh+
CMV: -
Ethnicity: Caucasian, English, French, German
Jewish Ancestry: No
Education/Occupation: MA International and Comparative Education / Graduate Research Assistant
Live Birth / Pregnancy Confirmed: No
Extended Testing: Yes
Genetically tested for: View
Ezra's dark brown hair and large brown/green eyes pop against his smooth, medium tan skin tone. He keeps his thick, wavy hair and full beard kept clean and styled nicely. Ezra stands at a tall 5'10" and has a fit frame and broad shoulders that pair well with his overall look. He keeps in shape by playing basketball and lifting weights.
Ezra is a very accomplished and well-traveled guy. He speaks fluent Russian, French, and Ukrainian, and holds a Masters degree in International and Comparative Education. In his free time, Ezra enjoys keeping up with current events, and is very interested in the political state of the world. You can also find him reading a good book, watching movies, and listening to podcasts. Ezra is highly intelligent, very sophisticated, and diversely talented. We think he'd be a great donor for any family!
Over the years, we have expanded our genetic testing of donors as genetic knowledge and technology have advanced. As a result, not all donors have been tested for the same conditions or with the same methods. All donors have undergone genetic testing for Cystic Fibrosis, Spinal Muscular Atrophy and Karyotyping.  However, many donors have had more extensive testing performed.
This donor has been evaluated for carrier status of the listed conditions. A negative result reduces, but does not eliminate, the likelihood of the donor being a carrier. If you are a known carrier of a genetic condition please contact us, and we will provide a copy of the donor's test reports to your physician and/or genetic counselor.
Since this donor is a carrier for 1 or more conditions, we require that you fill out the Informed Consent document found HERE
This consent form needs to be completed and sent to us, prior to shipment.