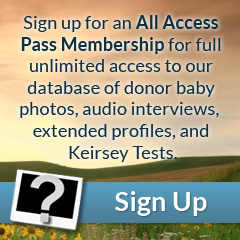 Eyes: Brown
Hair: Dark Brown
Height: 6'02"
Weight (lbs): 145
Blood: O Rh-
CMV: -
Ethnicity: Caucasian, English, French, German, Irish, Polish, Scottish
Jewish Ancestry: No
Education/Occupation: B.S. Geology / Tutor, Soccer Coach
Live Birth / Pregnancy Confirmed: Yes
Extended Testing: No
Genetically tested for: View
Finley is tall and trim with a thin build. He has masculine facial structure balanced with striking features. He has large deep brown eyes with long eyelashes and thick dark brown hair he often keeps trimmed short. He has high cheekbones that have a hint of red under his naturally tanned skin. Finley has a strong chin and jaw line. He has a sweet smile with beautiful pearly white teeth and full light pink lips. Finley dresses in dark button up shirts and khaki pants.
Finley is genuine and true. He has a gentle soul and kind personality. Finley is a little reserved but opens up once you get to know him. He is smart and likes to devote some attention to philosophical thinking. He enjoys spending as much time outdoors as is possible and loves hiking. We asked Finley why he wanted to be a donor and he said, "I look forward to having children of my own someday, and I know it would be devastating to want to raise kids but not have that option. Being a parent is one of the greatest joys of being a human. It feels great to help those who otherwise could not have experienced it." We love Finley and think he would make a wonderful genetic donor to your family!