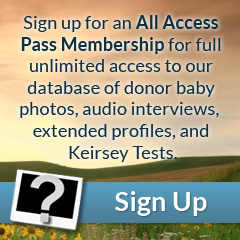 Eyes: Brown
Hair: Dark Brown
Height: 5'05"
Weight (lbs): 130
Blood: O Rh+
CMV: -
Ethnicity: Mix, African-American, Norwegian
Jewish Ancestry: No
Education/Occupation: MA, Museum Studies, Anthropology / Museum Professional
Live Birth / Pregnancy Confirmed: Yes
Extended Testing: Yes
Genetically tested for: View
Finnegan has a small, lean frame, with slender toned muscles and a narrow torso. He has thick, curly black hair, soulful brown eyes, and a smattering of freckles against his smooth, medium skin. He has a small, angular face and an astute and welcoming expression.
Finnegan always speaks very thoughtfully and intelligently; he has a B.A. in Anthropology and a Masters degree in Museum Studies, currently working as a Front Office Manager for a great museum in the Seattle area. Finnegan prides himself on being politically active and being involved in many social issues impacting his local and global communities; we value his adventurous spirit, his strong work ethic, and his kindness. Finnegan is all around a great donor!
Genetic Testing
Over the years, we have expanded our genetic testing of donors as genetic knowledge and technology have advanced. As a result, not all donors have been tested for the same conditions or with the same methods. All donors have undergone genetic testing for Cystic Fibrosis, Spinal Muscular Atrophy and Karyotyping.  However, many donors have had more extensive testing performed.
This donor has been evaluated for carrier status of the listed conditions. A negative result reduces, but does not eliminate, the likelihood of the donor being a carrier. If you are a known carrier of a genetic condition please contact us, and we will provide a copy of the donor's test reports to your physician and/or genetic counselor.