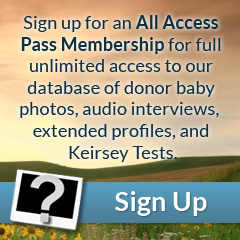 Eyes: Brown
Hair: Dark Brown
Height: 5'05"
Weight (lbs): 130
Blood: O Rh+
CMV: -
Ethnicity: Mix, African-American, Norwegian
Jewish Ancestry: No
Education/Occupation: MA, Museum Studies, Anthropology / Museum Professional
Live Birth / Pregnancy Confirmed: Yes
Extended Testing: Yes
Genetically tested for: View
Finnegan has a small, lean frame, with slender toned muscles and a narrow torso. He has thick, curly black hair, soulful brown eyes, and a smattering of freckles against his smooth, medium skin. He has a small, angular face and an astute and welcoming expression.
Finnegan always speaks very thoughtfully and intelligently; he has a B.A. in Anthropology and a Masters degree in Museum Studies, currently working as a Front Office Manager for a great museum in the Seattle area. Finnegan prides himself on being politically active and being involved in many social issues impacting his local and global communities; we value his adventurous spirit, his strong work ethic, and his kindness. Finnegan is all around a great donor!