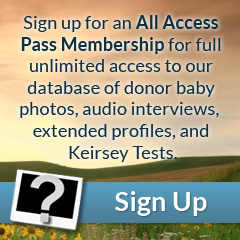 Eyes: Brown
Hair: Black
Height: 5'07"
Weight (lbs): 190
Blood: B Rh+
CMV: -
Ethnicity: African-American, Native American
Jewish Ancestry: No
Education/Occupation: M.S. Accounting / Business Owner and CPA
Live Birth / Pregnancy Confirmed: Yes
Extended Testing: Yes
Genetically tested for: View
Franklin has a rounded face with a handsome square chin. He has big, dark brown eyes, and a wide, engaging smile with full lips and straight white teeth. He has a medium build with a strong core and a solid frame.
Franklin has an amazing energy and a great attitude that are truly infectious! He has a charming, laid-back demeanor, and loves to chat and ask questions. He is funny, kind, and sincere. Franklin is a CPA, so he is obviously great with numbers. He also has a strong background in both music and sports, so it's easy to say he is well-rounded and multi-talented, with a desire to try to new things and explore new ideas. We love having Franklin in our donor program, and we strongly recommend him as a donor!