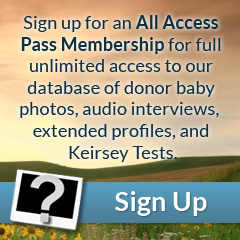 Eyes: Brown
Hair: Black
Height: 5'07"
Weight (lbs): 190
Blood: B Rh+
CMV: -
Ethnicity: African-American, Native American
Jewish Ancestry: No
Education/Occupation: M.S. Accounting / Business Owner and CPA
Live Birth / Pregnancy Confirmed: No
Extended Testing: Yes
Genetically tested for: View
Franklin has a rounded face with a handsome square chin. He has big, dark brown eyes, and a wide, engaging smile with full lips and straight white teeth. He has a medium build with a strong core and a solid frame.
Franklin has an amazing energy and a great attitude that are truly infectious! He has a charming, laid-back demeanor, and loves to chat and ask questions. He is funny, kind, and sincere. Franklin is a CPA, so he is obviously great with numbers. He also has a strong background in both music and sports, so it's easy to say he is well-rounded and multi-talented, with a desire to try to new things and explore new ideas. We love having Franklin in our donor program, and we strongly recommend him as a donor!
Genetic Testing
Over the years, we have expanded our genetic testing of donors as genetic knowledge and technology have advanced. As a result, not all donors have been tested for the same conditions or with the same methods. All donors have undergone genetic testing for Cystic Fibrosis, Spinal Muscular Atrophy and Karyotyping.  However, many donors have had more extensive testing performed.
This donor has been evaluated for carrier status of the listed conditions. A negative result reduces, but does not eliminate, the likelihood of the donor being a carrier. If you are a known carrier of a genetic condition please contact us, and we will provide a copy of the donor's test reports to your physician and/or genetic counselor.