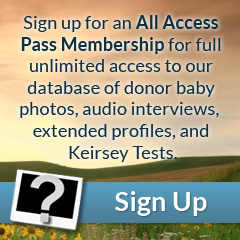 Eyes: Blue
Hair: Blonde
Height: 6'05"
Weight (lbs): 175
Blood: O Rh+
CMV: -
Ethnicity: Caucasian, Irish, Norwegian
Jewish Ancestry: No
Education/Occupation: B.A. Business / Insurance Agent
Live Birth / Pregnancy Confirmed: Yes
Extended Testing: No
Genetically tested for: View
Frasier's face perfectly reflects his personality: kind and gentle. His dark-blue eyes exude calmness but also a bit of inquisitiveness. His light-brown hair and fair skin complement each other quite well. His face is oval with a nicely defined chin. Frasier has boyish good looks.
Frasier is extremely friendly and gets along with everyone. His laid-back attitude and relaxed-in-his-own-skin vibe affects those around him, putting everyone at ease. Frasier loves watching sports, hiking in the Pacific Northwest, and spending quality time with family and friends. He works hard but knows how to maintain a healthy work-life balance. Frasier would make a great donor for any family.