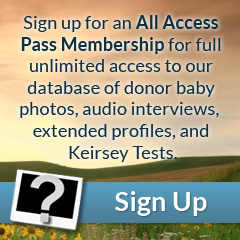 Eyes: Blue
Hair: Brown
Height: 6'07"
Weight (lbs): 200
Blood: O Rh+
CMV: +
Ethnicity: Caucasian, English, Hungarian
Jewish Ancestry: No
Education/Occupation: Medical Degree / Physician
Live Birth / Pregnancy Confirmed: No
Extended Testing: Yes
Genetically tested for: View
Fredrik is a statuesque donor with a magnetic personality. With his tall and well-built frame, full head of dark hair, tan skin, blue eyes, dimples, and a square jawline, he is strikingly handsome.
In addition to being attractive, Fredrik is a well-rounded donor who is highly educated, confident, friendly, and approachable. He is hardworking in both his professional and athletic pursuits, competing in triathlons when his busy work and family schedules allow him to do so. We are excited to have Fredrik in our program.